Hello!
With the return of super skinny jeans and leggings this past couple of years, it's no wonder the jeggings were invented. Jeggings are basically exremely skinny jeans that look like leggings and are also worn like leggings.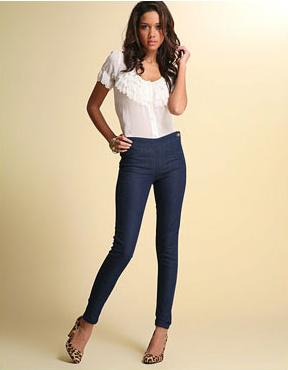 A Few Thumb Rules
First off, make sure jeggings suit your body type. If you don't feel comfortable in them, don't wear them – no one's going to shun you for it!! Second, pick a dark pair that will go with everything from a basic tank to a sweater dress. Also, black slims you down so that's always a plus. If you're on the short side, you may want to get a petite pair as a regular pair of jeggings might run a little too long, and there's nothing worse than 2 feet of bunched up jeans at the bottom.
So What Exactly Can You Wear Jeggings With?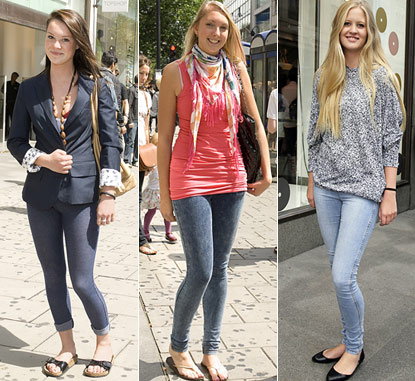 Jeggings are actually quite versatile, and we feel they do a better job than skinny jeans or leggings would. Because they're still denim material, you don't have to cover your butt, but they're so slim and skin-tight like leggings that you can wear a long sweater or tee, a dress, or just throw a long cardigan over.
You can wear leggings with a pair of chunky heels, a long sweater and a scarf.
Add a big tote to that, and you're set for the day. So if you're heading to the mall this week, make sure to pick up a pair of jeggings: it's all you'll need!