Hello!


The face shapes and the types of collar that best suit can be easily explained. Once you get the basic idea that the goal is to create an illusion of a more oval shaped face, you will be ready to choose the right look in any situation. Let's break things down by face shape: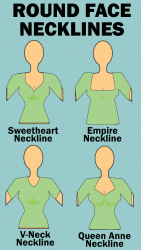 The Round Face

The round face needs something to elongate the vertical focus. Often, round faces come packaged in bodies that are also heavier-set and rounded. Therefore, you want to choose collars that are deeper than they are wide. These include v-necks, shirt/blouse collars, Queen Anne necklines and Empire necklines. You can even reinforce the appearance of the elongated neckline by combining looks such as the shirt collar look with a jacket, making a very deep "V" shape to make a stronger vertical line.

The Long Face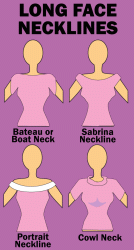 The Long Face has the opposite need of the Round Face. Those with long faces need to create a horizontal focus for the eye to follow, thus making the face appear wider and more oval. This can be accomplished using necklines that are shallower, and which do not generate such a downward focus. Long faced individuals are often tall and thin, which further reinforces the need to add some balancing width. This width can easily be created by wearing such neck styles as the Sabrina, Bateau, Portrait and Cowl Neck.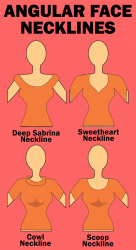 The Angular Face

The angular face presents a case where the shape of the face needs its balance created by reinforcing "curved lines". These can come in a variety of neckline styles, such as the Scoop Neck, Sabrina, Sweetheart and Cowl Neck styles. These provide both sweeping curves as well as a softer line of focus for the eye which can help to balance the sharp features of the Angular face shape.